Witch hazel, a natural ingredient known scientifically as Hamamelis, is among the list of some of the popular natural ingredients found in toners more and more frequently.
History of the ingredient
Witch hazel has been used as a common skin care ingredient for centuries. The ingredient is a botanical extract that comes from the leaves and bark of the Hamamelis plant, which is a genus of four plants found in North America and Japan. The extract from the plant has long been used medicinally to alleviate inflammation and swelling. Today, it's a common ingredient in skin toners and other skin care products that aim to treat and diminish signs of acne.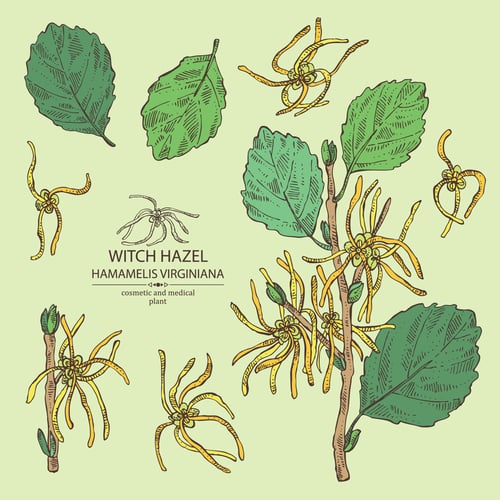 Witch hazel has a long list of benefits in skin care products for its ability to decrease inflammation and puffiness. Witch hazel also works to soothe hemorrhoids—beauty blogs and magazines have long promoted hemorrhoid creams as a beauty hack, as the products can also work wonders to decrease the appearance of puffiness and eye bags. Instead of advocating the use of these creams in ways they were not intended, beauty companies are now turning toward witch hazel once again to create skin care solutions that are safer to use for the facial area.
In skin care
Hamamelis is rich in antioxidants that can help cleanse the skin and prevent the formation and spread of germs that cause problems such as fungal acne. While alcohol rich toners can be drying on the skin, witch hazel toners still contain enough levels of ethanol to be used as a cleansing product. When paired with hydrating and moisturizing skin care products, the alcohol content in witch hazel toners should not cause damage or excessive dryness. For consumers that suffer from excessive oil production in their skin, this can help combat those issues without exposing the skin to harsh chemicals.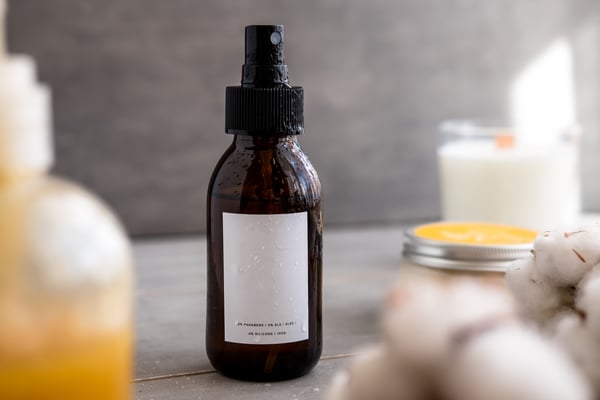 Witch hazel is technically what dermatologists call an astringent, meaning that it helps clear and contract the pores. Astringents often get a bad reputation because of their potentially negative side effects, but when used in moderation these ingredients can be great for diminishing acne. Studies on whether or not witch hazel is fully effective on acne have proven to be inconclusive, as it greatly depends on what type of acne a consumer has that determines whether or not it is effective.
Hamamelis has a naturally acidic pH, making it a great ingredient for a toner, but not without potential side effects. Those with sensitive skin may notice that witch hazel can be drying, and when used too often it can cause irritation. Dermatologists often suggest that witch hazel be used in moderation, especially when starting to use the product for the first time because it can cause redness and dryness to appear—particularly for those with sensitive skin types.
In body care
Many witch hazel products are marketed as skin care toners for the face, but the medicinal properties of the natural ingredients make it ideal for use throughout the body. Because of its anti-inflammatory properties and its ability to soothe irritation, witch hazel also makes a great ingredient in treatments for ingrown hairs and bug bites. The naturally occurring antioxidants in the extract help to neutralize any irritants and get rid of germs that reside in the skin.
Marketing witch hazel products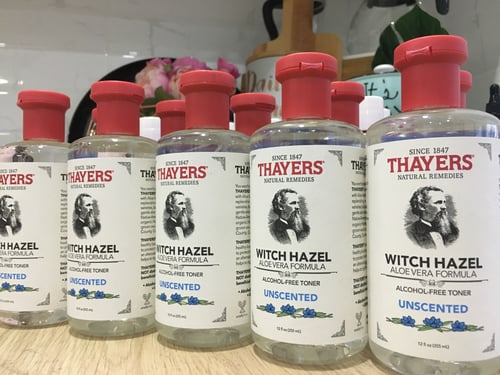 Most of the popular witch hazel products are not marketed for any specific remedy, but are sold as an all-encompassing body and beauty care ingredient. Thayer's Witch Hazel, for example, is one of the most popular witch hazel products in the United States and is marketed as an old-fashioned beauty remedy using the ingredient's long history as a medicinal treatment as its main marketing tactic. Even its packaging and labeling expands on this, giving the product the look and feel of having come from an old-fashioned apothecary. Thayer's Witch Hazel, specifically, uses its lack of alcohol as a marketing advantage to entice consumers that may be wary of using an alcohol toner.
Popular hamamelis ingredients on Covalo
Cosi-Plant witch hazel extract from IOI Oleo in Hamburg, Germany is a high quality witch hazel extract that is derived from the bark, leaves, and twigs of the hamamelis plant. Because this ingredient comes from Germany, it's subject to strict rules and regulations set upon skin care ingredients within the European Union. For high quality products, we recommend this witch hazel ingredient.
This steam-derived witch hazel extract from Helpac in Auzon, France is also subject to strict laws regarding agricultural ingredients and chemicals that come from within the European Union. This popular choice of witch hazel extract can be added to a variety of skin care products—from toners to irritation soothing products intended to treat bug bites and ingrown hairs.
Provital's Polyplant Anti-Fatigue H. GL-M.S contains an extract from the hamamelis plant and is a water soluble and paraben free. This would make it a great addition to any product that aims to be advertised as a natural product, as the all-natural ingredients make it a good marketing opportunity.
Disclaimer: The information provided (on our blog) is accurate to the best of our knowledge, however, there may be errors. As a neutral organization, we at Covalo do not advocate or promote certain products or ingredients on our platform as better than others. The Site may contain (or you may be sent through the Site) links to other websites or content belonging to or originating from third parties or links to websites and features in banners or other advertising. Such external links are not investigated, monitored, or checked for accuracy, adequacy, validity, reliability, availability or completeness by us. For more information on our blog, contact social@covalo.com