Few personal care products are more divisive than a classic bar of soap. The solid personal hygiene product was around long before its more popular sibling, liquid soap, but in that time the product has gone from innovative, to unsanitary, to sustainable. But the debate between whether or not liquid or solid soap is better is only the tip of the iceberg when it comes to the subject of solid cosmetics. From solid perfumes to solid shampoo, eyeliner, and other makeup, the solid cosmetics industry is both budding and blooming in recent years.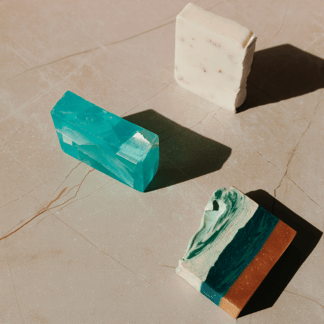 Years ago the term "solid cosmetics" likely only brought to mind products like pencil liner and solid soap, but the expansion of the industry over the last couple of years has been fueled by a desire to use less resources to create personal care products. Today, dozens of types of solid products are available on the mainstream consumer beauty market. Things like perfumes, shampoos, oral care products, makeup, and even lotions are available in solid form, cutting back on the amount of water and packaging used by the global cosmetics industry.
Today, solid cosmetics refer to any type of cosmetic or personal care product that can be offered as a solid alternative to its liquid counterpart. These products are growing in popularity because they use less water to produce (in most cases consumers add water as they use the product, cutting back on the overall amount needed to use the product properly), and are often more affordable because they're concentrated forms of a liquid alternative. In most cases, solid products are also easier to package sustainably, because it's easier to wrap a solid in biodegradable paper than it is to package a liquid in a biodegradable plastic.
What is the purpose of solid cosmetics?
Aside from the environmental benefits that come with solid beauty products and cosmetics, they're also easier to travel with which makes them attractive to any consumer that travels often and with as little as possible. Where airport security organizations put limitations on the amount of liquids that someone can bring through airport security, they don't do so for solids. Solid products are easier to transfer from your home bathroom to a carry-on, and back. Plus, it's much more sustainable for consumers to rely on only one product instead of throwing away travel size plastic bottles each time they travel.
Consumers are growing on the idea of solid cosmetics with the incentive of being able to cut back on their plastic consumption. Solid cosmetics are also attractive to consumers because they generally come with more product in them than their liquid alternatives, making them last longer than they would in liquid form. A package of solid toothpaste pellets, for example might last a consumer much longer than a tube of the same product would—and it would eliminate the waste created from throwing away the empty packaging.
However, some consumers are turned off to the products because they need some type of wax in their composition in order to hold their solid shape. Usually the wax used in these products is some type of natural wax like beeswax, shea butter or carnauba wax, which you can also find on Covalo:
Despite being a natural wax, some consumers find that these ingredients can make their skin seem shinier than usual (luckily, dewy skin is in right now). Aside from the wax base, though, solid cosmetics are generally pretty similar to their liquid counterparts.
Which solid cosmetics brands are the most popular?
Solid cosmetics are growing in popularity and more and more brands create solid products on a regular basis. That being said, some cosmetics companies have created a stronghold over the industry in one way or another. Lush, a global cosmetics brand known for its eco-friendly cosmetics and line of luxury bath fizzies, has some of the most variety of solid cosmetics in the beauty industry.
The company carries anything from solid bubble bath bars to solid perfumes and solid toothpaste pellets, and offers discounts to customers that return their empty packaging to be re-used or recycled. It even has an entire line of package-free products to give customers the option to buy products void of any packaging at all, making them feel more in control of their carbon footprint.
Other companies, like Milk Makeup, offer a full line of solid skin care and beauty products ranging from blushes and lipsticks to serums and face masks. Each product is packaged in a twist-up container, a signature move that made the company's products famous in places like the United States. Plus, the brand focuses its marketing efforts on any natural ingredients that might act as active ingredients in the product, making them attractive to consumers that are interested in products that utilize plant-based ingredients.
Other solid cosmetics
Not every solid cosmetics company puts sustainability at the forefront of its marketing, though. Suva Beauty, a US-based indie beauty brand, offers a line of fluorescent eyeliner products that require the consumer to add water in order to activate them. The brand creates an incentive for consumers to choose their product over a liquid alternative because it advertises extensively on how the products are customizable. Consumers can add water and mix the colors as they please, giving them more artistic freedom in creating a rainbow of makeup looks.
Kim Kardashian-West, who normalized the contoured makeup look in the 2010's, created her own line of solid cream contour products that are easy to use for beginners. Kardashian-West, who's makeup looks are carefully crafted by a glam team of professional makeup artists, saw a business opportunity in recognizing that her fans were mimicking her looks but didn't necessarily want to invest in a line of makeup products intended for makeup artists. Her cream contour sticks allow consumers to pick a stick based on their individual skin tone and easily blend the product with the attached blending sponge on the container.
There are many benefits to creating solid cosmetics as consumers become more environmentally conscious. The products often last longer (especially if they don't use water) and can be marketed as travel-friendly and eco-friendly to attract consumers that might travel often or want a product with less of a carbon footprint. Thanks to modern technology, almost any product can be packaged and sold in solid form where it was once only an option to sell the product as a liquid. Things like toothpaste pellets, perfumes, serums, moisturizers, and makeup products can be sold in solid form, opening up the possibility of an entirely new line of beauty products for consumers to try out.
Disclaimer: The information provided (on our blog) is accurate to the best of our knowledge, however, there may be errors. As a neutral organization, we at Covalo do not advocate or promote certain products or ingredients on our platform as better than others. The Site may contain (or you may be sent through the Site) links to other websites or content belonging to or originating from third parties or links to websites and features in banners or other advertising. Such external links are not investigated, monitored, or checked for accuracy, adequacy, validity, reliability, availability or completeness by us. For more information on our blog, contact social@covalo.com