In the skin care and beauty industry, these "skinfluencers" make up a massive portion of global product sales today. Social media is where consumers turn to find information about new products, read honest reviews of existing brands and products, and learn about how to care for their skin properly from trusted peers. Studies have shown that millennials are also obsessed with their skin health. That, combined with the fact that millennials love sharing on social media, means that the skin care industry has seen exponential growth in the last decade, and it's expected to continue to rise.
Where companies could once reach millions of people in a single magazine spread for a hefty fee, they're finding that the return is just as great through a handful of more cost-effective influencer campaigns on Instagram. But how do brands find the perfect "skinfluencer" to work with? Are there any laws and limitations? Who are the top skinfluencers in the beauty niche? Does working with Skinfluencers also make sense in a B2B setting? What makes the millennial market unique when it comes to skin care marketing? These are all questions we're answering below, but before we get into how to find the perfect skinfluencer to help your brand, there are a few details about marketing toward millennials you have to understand.
What makes marketing to millennials so hard?
The short answer? They know exactly what they want, and with the oversaturation of a free-market economy, that means they're willing to sift through hundreds of products to find exactly what they're looking for. Whether it be on social media, in chat forums, or through surfing the seemingly endless ocean of information available on the web for free, millennials are online virtually 100% of the time. With access to so much information and media, millennials have become a generation of curators. Websites like Pinterest, Instagram and Tumblr use algorithms to curate the user experience and content based on the user's preferences. If the user does not like it, they will not see it again.
For the skin care obsessed, this means sharing and spreading information and content related to products and ingredients that get people excited—or, more specifically, that get their followers excited. Brands are having to come up with innovative ways to target their demographics, often honing in on a specific niche rather than a blanket audience. When it comes to social media, niche is everything. Marketers use big data to create psychographics that firmly define the niche they're looking to market to.
They know ingredients
Millennials are also more likely to research a product extensively before they buy. Skinfluencers provide a platform to teach their followers about things like active ingredients and how to read ingredient labels. They also value the visual elements of the product, such as the packaging, and tend to only buy products that they see themselves in.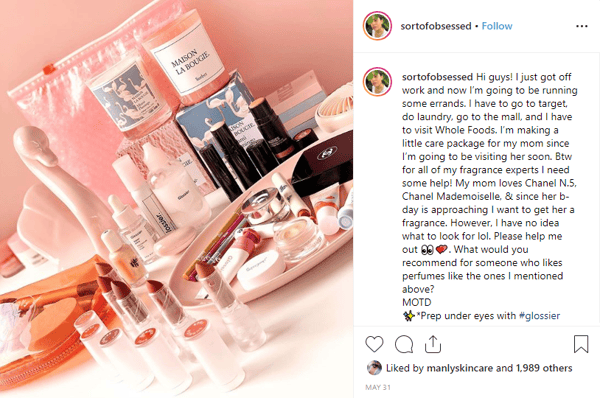 That being said, not all consumers are the same. When Kylie Jenner announced the launch of her skin care line, Kylie Skin, earlier this year, the product line was met with major backlash over one ingredient in the line's exfoliating scrub: walnut shell powder. Thousands of social media users and other influencers took to the internet to slam the product, saying that the harsh exfoliant would cause micro-tears in the skin if used on the face. Nevertheless, the entire Kylie Skin line sold out in four minutes when it launched on June 05. This is likely because the Kylie Skin brand knew its niche demographic was younger and more likely to buy the $30 Kylie Skin products as an introductory skin care regimen. Like Kylie Cosmetics, the company used Jenner's influential status to run a campaign that was nearly 100% announced and executed through social media. In this case, the skinfluencer was the brand itself.
The same idea is why consumers that are more likely to buy a matte foundation are less likely to interact with brands like Glossier, a direct to consumer cosmetics brand that created its entire product line based on the idea that dewy, healthy skin is attractive. The odds are high that Glossier would not start an influencer campaign with a beauty blogger that creates dramatic eye makeup looks. But an influencer that travels, spends a lot of time at the beach, and embraces natural makeup looks? Absolutely. The first step in marketing to millennials through skinfluencers is to gain insight into your audience.
Picking a platform: Macro vs. micro influence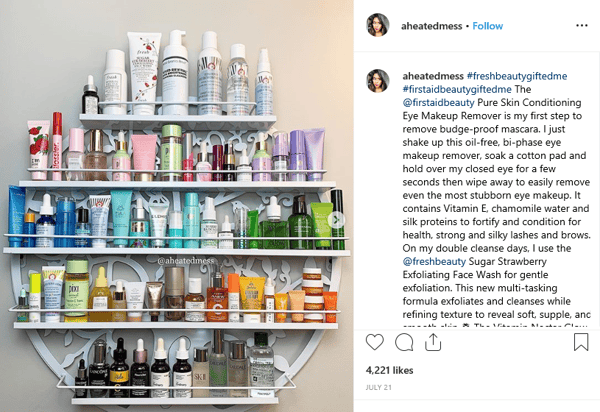 Once the niche demographic has been firmly defined, it's time to consider which web platform is going to be the most lucrative to pursue in influencer marketing. Different consumers hang out in different realms of the internet. For many in the skinfluencer niche, beautiful flatlay photographs of skin care products litter Instagram. On YouTube, however, beauty brands are hungry to get their products featured in influencer channels that create skin care routine and makeup tutorial videos to hundreds of millions of viewers. Meanwhile in the blogosphere, niche beauty blogs dedicated to anything from Korean beauty secrets to rankings of the best cruelty-free products on the market garner millions of unique users a day. Picking the right platform is nearly equal to picking the right skinfluencer, which can only come with picking the right niche.
On Instagram, hashtags like #skincare see millions of posts per week, and influencers with hundreds of thousands of followers are increasingly losing trust among their followers. On YouTube and in blogs as well, that, combined with the fact that influencers are more likely to charge a lot more for a feature if they have more than 10,000 followers on their social media channel, often makes micro-influencing the more lucrative option for smaller brands. Consumers want to follow influencers that seem genuine, and since macro influencers usually depend on content creation to make a living, their channels and profiles are often littered with ads from big companies that have paid to get their products featured.
To loop back in on the success of Kylie Skin, the brand also utilized influencers in the beauty niche on YouTube to market its product. Influencers that saw major success in marketing Kylie Cosmetics were given Kylie Skin product to review on their channels. Most of these influencers are focused on creating and promoting colorful, full faced makeup tools and products, but since Kylie Skin was going for the skin care newcomers it knew that the makeup moguls would be more lucrative than the skinfluencer experts.
Covalo's Top 10 Skinfluencers
Regardless of whether or not macro-influencer marketing would be a good approach for your product's social media marketing strategy, our top 10 "skinfluencer" channels will give you a good idea of which niche your product would be best suited for. Many of these blogs and outlets are also relevant to B2B brands, and can help increase brand awareness on anything from consumer-facing cosmetics outlets to understanding the origin of ingredients and their individual suppliers. They do this by combining chemical and product know-how and approaching communication differently as part of their own personal brand to create awareness and help sell products from another brand.
10. Msbeautyphile - YouTube
Purpose: Provides informational content on the science of skin care explained to consumers. This channel covers everything from explaining the science of hyaluronic acids to how the internal workings of a hair dryer come together.
Subscribers: 6,740
Macro or Micro: Micro
9. Lab Muffin Beauty -
Blog & Instagram Page
Purpose: Also aimed at educating consumers on skin care using science, Michelle's blog takes a scientific approach to reviewing products based on their active ingredients and chemical composition.
Instagram Followers: 99,300
Macro or Micro: Macro
8. Natural Beauty Workshop - Blog
Purpose: As the name suggests, the Natural Beauty Workshop is a blog dedicated to all things natural beauty. The site focuses on suggesting handmade or botanical skin care products to its followers.
Facebook Followers: 11,695
Macro or Micro: Macro
7. The Klog - Blog
Purpose: As the leading beauty blog dedicated almost entirely to Korean beauty trends and products, the Klog has earned a reputation as a go-to source for all things k-beauty or j-beauty.
Facebook Followers: 23,662
Instagram Follower: 127,000
Macro or Micro: Macro
6. Chemist Confessions - Blog & Instagram Page
Purpose: Chemist Confessions is another blog and Instagram page aimed at educating consumers on skin care products based on their chemical composition. Different than Lab Muffin Beauty, the blog was started by three former industry workers that felt there was not enough transparency in skin care.
Instagram Followers: 83,800
Macro or Micro: Macro
5. Allure - Blog & Print Magazine
Purpose: As one of the most well-known magazines in the fashion and beauty industry, Allure drives consumers to some of the best beauty products in the industry through its blog, print magazine, annual "best in beauty" awards, and monthly beauty box subscription.
Facebook Followers: 1.5 million
Macro or Micro: Macro
4. Viva Woman - Blog
Purpose: Viva Woman is a Singapore-based beauty blog that aims at connecting readers to holistic and natural beauty products with a focus on the k-beauty market.
Facebook Followers: 5,147
Macro or Micro: Micro
3. Dr. Bailey Skincare - Blog
Purpose: Dr. Bailey is a dermatologist that uses her blog as a way to connect consumers to quality skincare. The blog is focused on attracting an older demographic and pays less attention to social media than it does on its website.
Readership: 10+ million
Macro or Micro: Macro
2. New Beauty - Blog & Magazine
Purpose: New Beauty aims to connect consumers to dermatologist-approved products and services. Products featured on the site are aimed more toward a luxury market of consumers looking for products available from dermatologists and estheticians.
Readership: 2.6 million cross-platform
Macro or Micro: Macro
1. Derma-E - Brand & Blog
Purpose: Also a skin care brand, Derma-E is a face and body care company with a vast product line that focuses on health as well as sustainability. The brand also has its own influencer program, which is not uncommon for skin care brands to have.
Facebook Followers: 293,559
Micro or Macro: Macro
Please share this with your colleagues by clicking one of the social media like or share buttons above, and remember to leave a comment. We love hearing from our readers!
Covalo is the most comprehensive personal care ingredient platform, making your search for the right ingredient super simple and speedy. You're only a few clicks away from finding just what you need. Watch the video and try out Covalo now.
Disclaimer: The information provided (on our blog) is accurate to the best of our knowledge, however, there may be errors. As a neutral organization, we at Covalo do not advocate or promote certain products or ingredients on our platform as better than others. The Site may contain (or you may be sent through the Site) links to other websites or content belonging to or originating from third parties or links to websites and features in banners or other advertising. Such external links are not investigated, monitored, or checked for accuracy, adequacy, validity, reliability, availability or completeness by us. For more information on our blog, contact social@covalo.com