Once considered the domain of niche indie brands, clean beauty is no longer just a trend. The business of clean beauty, part of the broader wellness movement, is projected to reach a global market value of roughly 54.5 billion USD by the year 2027 according to Statista. While not all brands see eye-to-eye on how to define clean beauty, it has evolved into a stand-alone category that is now being embraced by retailers and global beauty conglomerates alike.
Inherent in the concept of clean beauty is the commitment to provide consumers with safe ingredients in personal care products. Ensuring the safety of cosmetics is the legal responsibility of all cosmetic manufacturers and mandated by every country they are sold in. However, the ever-shrinking list of acceptable preservatives presents one of the greatest challenges for cosmetic chemists to deliver on that commitment.
The purpose of preservatives
Cosmetic preservatives are added to prevent the growth of a diverse number of harmful bacteria, yeasts, and mold throughout shelf-life and to control microbial contamination during normal, reasonable use by the consumer. Another important reason for product preservation is to counteract accidental contamination during production or that which is introduced by raw materials, especially those that are natural, unpreserved, and unable to be treated by irradiation (forbidden in COSMOS certification) or other means to reduce or eliminate inherent microbial load.
Regulatory and market pressures
Because preservatives are intended to be biologically active, they have the potential to cause injury or irritation if improperly used resulting in regulations by governments. The United States Food and Drug Administration (FDA) does not approve preservatives but prohibits the distribution of adulterated or mislabeled cosmetics and noting that cosmetics need not be sterile, but they should not be contaminated with pathogenic microorganisms and the density of non-pathogenic organisms should below. Each cosmetic that is not self-preserving also must be tested for microbial contamination prior to interstate shipment. More explicit regulations for preservatives come from the European Union as a list of over 50 approved chemicals. While the list offers numerous options, there are use level restrictions and not all of these ingredients are appropriate or effective in every type of cosmetic which results in regular use of about a third of these ingredients.
Consumer pressures have also added to the complexity of selecting cosmetic preservatives. Terms like "clean" and "nontoxic" are often used interchangeably along with "natural" and "green." Despite the lack of a uniform regulatory or legal definition of these terms, they are becoming increasingly important in defining the goals of product development processes for cosmetics and personal care. Clean beauty brands and retailers have created lists of prohibited ingredients in addition to some special use cases or level restrictions. While these lists can vary considerably many include traditional cosmetic preservatives like formaldehyde donors (DMDM hydantoin, diazolidinyl urea, and quaternium-15), parabens, methylisothiazolinone, methylchloroisothiazolinone, triclosan, benzalkonium chloride, and limit phenoxyethanol to 1% or less.
Alternative preservative strategies
As the lists of traditional preservatives available to formulators shrinks, it is imperative to address the point of contamination and utilize ingredients that supplement preservative performance. Approaches to reduce preservatives use levels include stringent raw specification and monitoring of raw materials for microbial load, hazard analysis critical control point (HACCP) management and protective packaging strategies. These strategies provide valuable insight and advantages but contamination throughout consumer use is not fully addressed. Protective packaging like airless pumps can lead to excess packaging and create sustainability concerns that are difficult to address such as the inability to recycle components. Ingredient and formulation based strategies include manipulation of water activity and the use of preservative adjuncts and boosters.
Preserving waterless cosmetics and water activity
In waterless cosmetics, an understanding of the chemical and physical requirements for microbial growth can be an effective way to reduce, or in some cases eliminate preservatives. Water and nutrients are needed for microbes to survive and support population growth. One approach to preventing microbial growth is to consider a product's water activity.
Water activity (aw) is defined as the ratio of the vapor pressure of the product compared to the vapor pressure of pure water. The scale of water activity runs from pure water at 1.00, to completely devoid of water at 0.00. Microbial growth occurs preferably at water activity levels above 0.90, but there are some osmotolerant organisms that can survive water activity as low as 0.60. While it may be tempting to assume that anhydrous formulations do not need preservatives, this is not necessarily the case. Consumers introduce water and microbes into cosmetics during typical use, and if the products are not adequately preserved these microbes can flourish. This can result in not only an unpleasant odor and appearance of the product but serious injury to users. For example, one study found counts of > 500 CFU/g of Staphylo­coccus spp. and Escherichia coli in cosmetic powders and eyeliners which are typically anhydrous. Eye infections from contaminated mascara and eye area products have also been well-documented.
Chelants
Chelants are frequently used in shampoos, liquid soaps, and body wash to reduce negative effects of water hardness and sequester metal ions that can accelerate fragrance and color degradation. Chelants also have a synergistic effect when used with antimicr­obials. Small amounts bind divalent cations like calcium and magnesium in microbial cell walls, allowing for enhanced penetration of traditional preservatives. Disodium ethylene­diaminetetraacetic acid (EDTA) and tetrasodium EDTA are two popular chelators used in the US personal care industry. However, these previously accessible preservative adjuncts have also been included in some restricted lists for clean beauty products creating the need for innovative, new approaches to product preservation.
Preservative boosters
Facing limitations on the types and use level of common cosmetic preservatives, formulators can utilize a number of compounds to supplement microbial defense. Some fragrance components and natural materials have been shown to have some degree of microbial efficacy but their activity is typically lost to dilution in the cosmetic formation and both the consistency and stability of chemical components responsible for the activity is difficult to ensure. Other booster strategies include the use of long-chain glycols. Caprylyl glycol functions as an emollient and a solubilizer due to its combined hydrophobic and hydrophilic properties; this amphiphilic nature is also responsible for preservative boosting efficacy. The octyl carbon chain length has been shown to disrupt cytoplasmic membranes of microbes, permitting traditional preservatives to more easily penetrate.
In order to meet the increasing demands placed upon formulators, Clariant has introduced Velsan Flex (INCI: Capryloyl/Caproyl Anhydro Methyl Glucamide (and) Water), an easy to use a multifunctional and renewable based booster. We've talked to Fabio Caravieri, Global Marketing Segment Leader Consumer Care from Clariant about their product innovation Velsan Flex:
What is Velsan Flex and what makes it so innovative?
Fabio: Due to its amphiphilic nature, Velsan Flex interacts with microbial cell walls increasing the permeability and efficacy of traditional preservatives. Total preservative use levels can be reduced by up to fifty percent when Velsan Flex is combined with phenoxyethanol or sodium benzoate.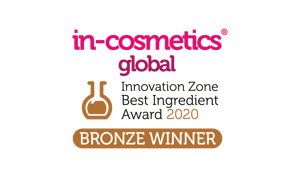 Velsan Flex's high water solubility and a broad range of pH stability (3.5 - 9) make it suitable for a variety of cosmetic applications including transparent products like micellar waters and notoriously difficult to preserve wet wipes. This ingredient is also a PEG-free alternative for solubilization of fragrance and essential oils. It is also an EcoTain product, COSMOS certified, ISO 16128 compliant, biodegradable, and derived from renewable sources, meeting the increasingly complex demands for clean, green, and responsible beauty standards.
How can formulators overcome main challenges when working with Velsan Flex?
Fabio: For end-consumer attractive products such as nourishing natural masks or certified body lotions are difficult to preserve since they provide a particularly rich breeding ground for microorganisms. Also when it comes to high transparency products such as micellar waters or eco-labeled shower gels, the high water content leads to similar preservation challenges for formulators. Velsan Flex is tackling these challenges and allows formulators the freedom to formulate natural, nourishing, clear, and with certified products. At the same time it allows flexibility in formulating by using a highly effective and renewable based preservative booster.
As a little sneak peek and to showcase the efficiency we would like to share the following 5 formulations:
Are there any special processing conditions required?
Fabio: As typical with many preservatives should be added at the end of processing at room temperature. It is recommended to check pH of any pre-mixes and including those used for final pH adjustments.
Synergistic preservative systems including Velsan Flex allow for a variety of formulation possibilities, its robust nature, and multifun­ctional benefits that can provide numerous advantages for the development of new personal care and cosmetic products.
---
If you have any specific questions to Velsan Flex, interested in samples of the ingredient, or in customizing your product experience directly click here. And make sure to explore their product portfolio on Covalo.