On this page
"As the cost of living crisis intensifies, consumers are changing their lifestyles. Brand loyalty, savvy shopping habits, and perceptions of value and transparency are all being tested."
— Mintel
Shifting values in beauty
⁠The way people approach beauty products is undergoing a fundamental transformation. Beyond mere product functionality, individuals are aligning themselves with brands that champion clear missions and ethical practices – the 'why' behind the products. According to a report by Provenance, a leading sustainability communications technology company, a staggering nine out of ten UK shoppers consider sustainability important.2 As climate issues are now felt in real-time, personal care sustainability credentials need to be effective and a normal part of everyday operations.
So how do we get there? The Upcycled Beauty Company believes the personal care industry can thrive from waste products alone to produce raw materials all the way through to packaging. This isn't a new concept and it isn't a giant leap for our industry. A lot of ingredients we already use are by-products – think of seed oils and floral waters.
The call for a circular economy
The global linear economy (take-make-dispose) relies increasingly on materials from primary sources. Over the last six years the global economy extracted and used more than in the entire 20th century before!3 It's no secret that this overconsumption of the earth's resources, coupled with the amount of waste produced, is having a detrimental impact on our planet. But this impact can be mitigated by refocusing efforts on a circular economy centred on waste prevention and reuse. In other words, upcycling.
According to the Circularity Gap Report 2023, the global economy is only 7.2% circular. And this is getting worse driven by rising primary material extraction3. Circular beauty is a green business model that focuses on reducing, reusing and extending a product's life cycle by minimising waste across all aspects of the supply chain. In personal care, we can easily reduce the environmental impact of cosmetic raw material production by upcycling botanical by-products to give them new life.
Text continues below image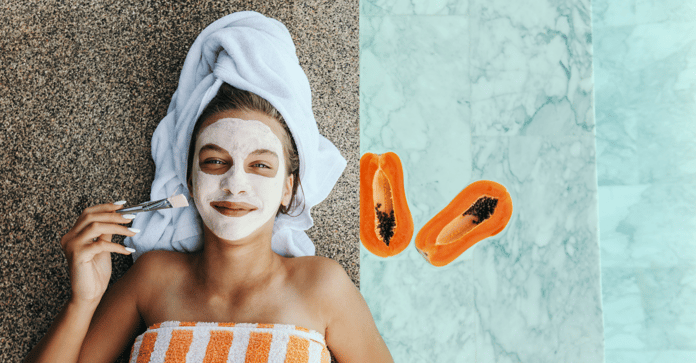 Harnessing the potential of food waste
Did you know that one-third of all food produced globally goes to waste? That amounts to approximately 1.3 billion tonnes per year. 1.4 billion hectares of land is used to grow this lost food (that's Canada and India combined)4, not to mention the lost water, resources and labour. While this may seem like an issue we can help solve at home, an estimated 40% of fruits and vegetables are discarded simply because of their appearance, not even making it to supermarket shelves5. In addition to wasting perfectly good produce, the other looming issue is methane. When food is sent to landfill it decomposes and becomes a significant source of methane, a potent greenhouse gas with 21 times the global warming potential of carbon dioxide6.
Upcycling as a climate solution
According to Project Drawdown, the world's leading resource for climate solutions, reducing food waste is a key factor to mitigate the climate crisis7. Upcycling food by-products and 'imperfect' produce presents an opportunity to create new cosmetic materials using minimal resources. We can find distinct value in plant-based leftovers with many raw material suppliers creating effective yet sustainably sourced products. By harnessing the power of phytocompounds already present within so-called waste, these companies are revealing that upcycled ingredients are also effective, in some cases, proven to outperform their non-upcycled counterparts. We also don't have to limit ourselves just to food waste. Upcycled ingredients can come from other supply chains, such as forestry by-products; think of wood off-cuts, bark, sawdust and leaves, which can provide feedstocks for charcoal and lignin or cellulose based materials.
Upcycling has countless benefits. Here are just a few:
Reduce waste from other industries that would otherwise decompose in landfill producing greenhouse gases⁠.
Prevent the production of primary materials⁠ for personal care and keep precious resources in use for longer.
Reduce the CO2 impacts of raw material production allowing beauty brands to calculate lower CO2 emissions as well.
Reduce water, resource and land use impacts associated with raw material production.
Promote a "hero" ingredient that adds value to formulations and environmental stewardship.
Have the power to change hearts and minds about waste.⁠
Help support local businesses⁠ and industries, building regenerative circular systems within local communities.
But communication can be a challenge for upcycled personal care and brands are unsure which claims to make and words to use. This is also the issue with upcycled food. As part of a PlantPro project survey conducted in Denmark, consumers were asked about which upcycling food terms they were aware of or not. Though familiarity around 'upcycling' was low and by/co-product was relatively higher, the report found an upward tendency in particular for 'upcycling'.8 Although there is still some way to go, this is good news, as there is growing consumer awareness about upcycling and what this means in terms of sustainability. Much like the rising demand for organic cosmetic ingredients and beauty products over the last years, we believe the increased awareness, availability and standardisation of upcycled food products will continue to strengthen the upcycling movement within personal care.
In fact, Allied Market Research predicts the global upcycled cosmetic ingredients market will reach $433.5 Million by 2031 at 6.6% CAGR9.
"Rise in demand for upcycled cosmetic ingredients owing to their functional benefits, surge in consumer awareness regarding the benefits of organic components in cosmetic ingredients, sustainability and preference for natural ingredients drive the growth of the global upcycled cosmetic ingredients market".
— Allied Market Research
Text continues below image
Innovative brands embracing upcycling
So how are brands already working with upcycling claims? Here are a few examples:
Champions of upcycling BYBI, a skin care brand from the UK, is working towards a goal of going beyond carbon neutral to become the world's first carbon negative beauty company. They use upcycled ingredients in over 50% of their product range.
KADALYS, a French skin care brand focused on 'Sustainable Banana Science' strives to make a positive impact in Martinique by following circular economy principles. They upcycle "green bananas" collected in Martinique that are considered as food loss.
German start-up No Planet B, is on a mission to reduce food waste, giving a second life to plant-based materials which would otherwise be thrown away.⁠ Their product line, including shampoos, conditioners, shower gels and hand soaps, all contain upcycled ingredients derived from feedstocks such as apricot kernels, used coffee grounds, olive leaves, broken rice grains, blueberry seeds and more.⁠ Their team of self-proclaimed 'Positive Rebels' prioritise upcycling for a waste-free planet and sustainable future.⁠
The use of plant-based upcycled materials within personal care is just one step in the journey towards circularity and zero-waste. But it is a great place to start, and the beauty industry has a unique opportunity to drive positive circular change.
With over 340 upcycled ingredients to choose from, Covalo offers a plethora of options for your next project. So, which one will perfectly match your vision? It's time to get creative and explore the endless possibilities!
References
Mintel. Navigate the Cost of Living Crisis with Mintel. Available Online. Accessed: 22.08.23
Provenance (2022) Skin Deep Beauty Report. Available Online. Accessed 22.08.23
Circle Economy. (2023). The circularity gap report 2023 (pp. 1-64, Rep.). Amsterdam: Circle Economy
Food Inspiration Magazine. No 41. Food Waste. Available Online. Accessed: 22.08.23
Initiative Save Food. Global food losses and food waste. Available Online. Accessed: 22.08.23
ReFED. Food Waste Impacts, Climate and Resources. Available Online. Accessed 22.08.23
ReFed. Drawdown Update Affirms Reducing Food Waste as a Leading Solution to Climate Change. Available Online. Accessed: 22.08.23
PlantPro (2022). Benchmark survey answers May 2021 and October 2022. Report of the PlantPro Project. Available Online. Accessed 22.08.23
Allied Market Research (2023) Upcycled Cosmetic Ingredients Market by Applications (Skin Care, Hair Care, Colour Cosmetics): Global Opportunity Analysis and Industry Forecast, 2021-2031
Liked this article? Share it with your colleagues and friends by clicking one of the social media like or share buttons above, and make sure to leave a comment. We love hearing from you!
Disclaimer: The information provided (on our blog) is accurate to the best of our knowledge, however, there may be errors. As a neutral organization, we at Covalo do not advocate or promote certain products or ingredients on our platform as better than others. The Site may contain (or you may be sent through the Site) links to other websites or content belonging to or originating from third parties or links to websites and features in banners or other advertising. Such external links are not investigated, monitored, or checked for accuracy, adequacy, validity, reliability, availability or completeness by us. For more information on our blog, contact social@covalo.com