Few beauty brands have been able to disrupt the global beauty market quite like Kylie Cosmetics and Kylie Skin have since launching in 2015 and 2019, respectively. The beauty mogul, who launched her brand with just $250,000 back in 2015, reportedly used all of the money she had acquired through branded partnerships and filming of Keeping Up With The Kardashians to launch her first three products—the Kylie Lip Kit—in December 2015.
But the success of the brand was not by chance, as Kylie Jenner leveraged her position and influence as one of the most-watched young celebrities on social media platforms such as Snapchat and Instagram when influencer marketing was still a new frontier. Once Kylie Skin was released, Kylie Jenner looked toward current market trends in the skin care niche of the beauty industry to create a product that consumers would be driven to naturally—something that goes far beyond the ingredients within the products themselves.
Everything about Kylie Skin—from its vegan, cruelty-free, sulfate-free, paraben-free ingredient certifications to its simple but sleek packaging that looks good on a bathroom counter was carefully calculated to add to the Kylie Cosmetics brand. In skin care, packaging, branding, and marketing contribute to the success of a brand just as much, if not more, than the products themselves, and the brains behind Kylie Skin and Kylie Cosmetics know that.
If you need proof—simply look at the seemingly endless list of eyeshadow palettes that the company has been able to repackage and sell as different variations of the same products for years now. No one consumer needs multiple eyeshadow palettes within the same color scheme, but beauty fans flock toward each product release as if it's a groundbreaking new product. Though this is not specific to Kylie Cosmetics, the brand has leveraged its popularity to continue to sell out products with each new line, every couple of months.
What Separates Kylie Cosmetics & Kylie Skin From Other Brands?
Aside from its popularity and association with Kylie Jenner, the Kylie Cosmetics and Kylie Skin brands have seen a unique rise to fame unlike most other cosmetics brands today. When Kylie Jenner launched Kylie Cosmetics back in 2015 its marketing was done entirely through social media. This kept advertising budgets low, allowing the brand to maximize its profit while targeting its ideal demographic in a place where they spend the majority of their free time already.
While there may not be anything particularly groundbreaking about any of Kylie Jenner's products aside from her original product—the Kylie Lip Kit—the marketing strategy and product packaging design are where the company garners most of its success. In leveraging influencer marketing across platforms like Twitter, Instagram, and YouTube, Kylie Cosmetics is able to advertise to millions of social media users within its target demographic.
Much of the content that Kylie Cosmetics and Kylie Skin products are involved in are focused on educating consumers about the products and their ingredients and formulas. Makeup tutorials from influencers are meant to give unbiased reviews of the products in addition to acting as a tutorial for how to use the products in new ways.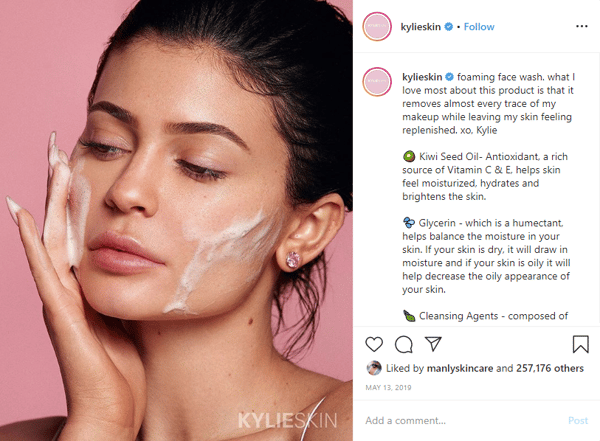 On Kylie's personal accounts, each product is unveiled via Instagram Story with an in-depth reveal that shows what each product looks like on her skin to show its consistency and color up against a skin tone. This way, consumers are familiar with the product upon launch and were able to learn about the product without going out of their way to educate themselves about it—Kylie met them where they already are, on social media.
Ingredients in Kylie Skin
In Kylie Skin's products, the ingredients are kept simple in order to appeal to consumers with any skin type and treat common skin concerns like acne, cleansing, brightness, and hydration/moisturizing. One of the products—the walnut face scrub—garnered controversy shortly after its launch when critics pointed out that walnut shell powder can cause micro-tears on the skin around your face, particularly closer to the eye area.
Regardless, the products sold out within minutes of its initial launch back in the spring of 2019, though the walnut scrub was one of the last products to go. Much of the line is directed at introducing cosmetics lovers to new skin care products that can help them keep their skin glowing naturally. Many of the reviews were positive as the products are affordable, but criticized the line for its use of ingredients like walnut shell powder and fragrance that could irritate sensitive skin.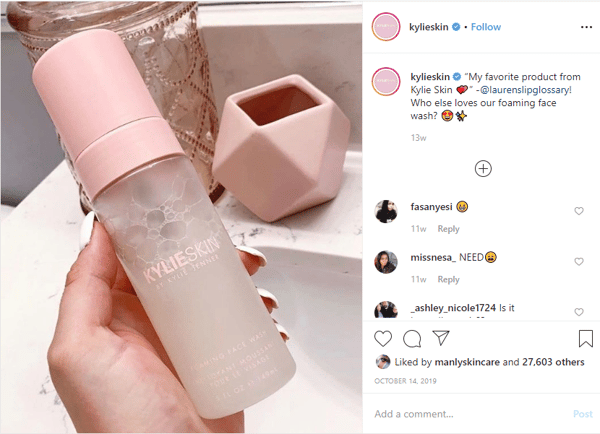 Foaming Face Wash
One of the most popular products in the Kylie Skin line is the foaming face wash. The gentle cleansing product is often touted as a good option for a second-step cleanser in a two-step cleansing routine. There are several ingredients listed on the packaging, though the entire product line is advertised as paraben and sulfate-free in addition to being vegan and cruelty-free.
The face wash advertises its use of Kiwi Seed Oil to help improve skin elasticity and prevent the dryness that can often occur after using a face wash. Notably, most reviewers notice that the face wash does an excellent job of cleaning the skin without drying it out. One of the options on Covalo for Kiwi Seed Oil is from Northstar Lipids, as it contains high levels of Omega 3 fatty acids which makes it ideal for use in facial and scalp products.
Walnut Face Scrub
Some skin care experts claim that walnut shell powder is too harsh of an exfoliant to use on the face, but it does make an excellent ingredient for use in polishes intended for use on the body. The exfoliating ingredient is able to slough off dead skin cells and increase cell turnover while leaving your skin feeling clean and smooth.
This walnut shell powder from Carribean Natural is one of the indexed walnut shell powder ingredients available through Covalo. The finely ground shell powder makes a great addition to body care products and can help give a vibrant, smooth glow to the skin.
Vanilla Milk Toner
The vanilla milk toner is one of the most popular products in the Kylie Skin line but, admittedly, has garnered mixed reviews for its use of fragrance. While many consumers love the fragrance of the product, others complained that it irritated sensitive skin (though many still liked the scent despite this).
The vanilla milk toner claims to use avocado oil as an active ingredient to help soothe and restore the skin without irritating it further. While many toners contain harsh astringents that can dry out the skin, this one is formulated with ingredients that focus on nourishing the skin with natural ingredients that can also restore the skin to a neutral pH level. One avocado oil available through Covalo is from The Herbarie and is rich in vitamins and minerals that nourish the skin.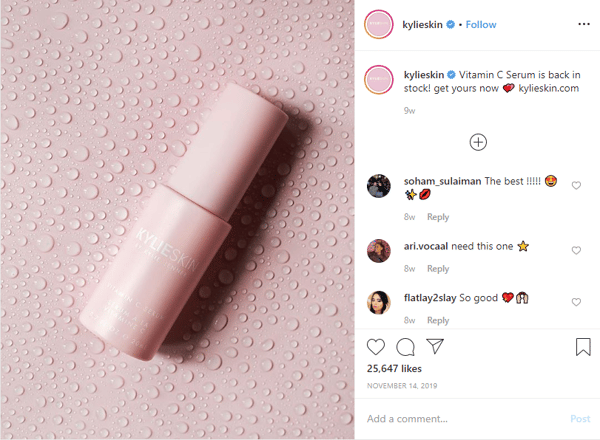 Vitamin C Serum
Many skin care lines have heavily marketed their vitamin C serums in recent years because of the products popularity in being able to brighten the skin—particularly around the eye area. Kylie Skin's vitamin C serum is no different, and has garnered positive reviews for its gentle formula and ability to brighten the skin without irritating, making it a good product for younger demographics that are looking to learn more about caring for their skin.
There are many vitamin C derivatives that are popular in skin care ingredients but the one that Kylie Skin uses in its vitamin C serum specifically is Tetrahexyldecyl Ascorbate. This derivative is oil-soluble and acts as a brightening and whitening ingredient. Because of its oil-solubility, it lets the formula easily absorb into the skin. On Covalo, you can find Tetrahexyldecyl Ascorbate (THDA) from Reb Tech as it absorbs well into skin while brightening.
Eye Cream
Reviewers love the eye cream from Kylie Skin because it comes fragrance free and contains gentle ingredients that are safe for all skin types, as well as younger skin (which is ideal, considering that the product is marketed towards teen consumers). The formula blends caffeine and green tea to help de-puff the eye area, while its rich and creamy texture contains vitamin E in the form of shea butter and pomegranate to help hydrate and nourish the skin.
A variety of shea butter ingredients are available through Covalo, for example All Organic Treasures, which is based out of Germany, meaning that it adheres to the strictest standards in the global skin care industry.
Face Moisturizer
Another of the more popular Kylie Skin products is the face moisturizer, which credits its humectant and emollient ingredients as being light enough not to weigh down your skin while still nourishing it. The product claims to use orange peel extracts as a means of soothing and softening the skin, while jojoba extracts nourish it.
Bio Botanica, a family owned chemical company based out of New York, offers an orange peel extract. The product also lists glycerin as one of its active ingredients.