Comparing J-beauty with K-beauty: How do they differ?
Where Korean beauty products are often mass produced and more affordable to consumers, Japanese beauty products focus on quality over quantity. For this reason they may seem quieter and less disruptive to the Western consumer market. Where Korean beauty products are often advertised as such, consumers will seldom see an advertisement for a Japanese beauty product that uses the term "J-Beauty" as a marketing tool. Regardless, Japanese beauty products remain some of the most innovative and cutting-edge beauty products in the world market.
What separates Japanese beauty from other East-Asian counterparts on the surface is often retail price. Companies like Tatcha and Shiseido, which have both launched in the United States and throughout Europe, rely on beauty supply stores like Sephora to reach their western consumers. Prices on each of these respective lines generally range in the $50-$100 USD area, though retail prices on some products can sit in the hundreds. In Japan, consumers are likely to spend more on skin care products, making it one of the most skin care obsessed countries in the world—second only to the United States.
Some of the key differences between Japanese beauty and other East-Asian counterparts lies in the way the products are marketed. Culturally, Japanese people value notions of luxury, minimalism, and simplicity. These are the values that get carried into the packaging and design of Japanese beauty products. Shiseido and Tatcha, again, are packaged in sleek bottles and tubs and often stick to a fluid color scheme throughout the whole line. Korean Beauty products, on the other hand, often feature animated designs with a variety of colors, shapes, and styles.
A lot of the way these products are marketed has to do with culture and historical treatment of beauty throughout Japan. Japanese design and lifestyle is all about minimalism and eliminating the need for excess. Where the K-beauty skin care routine emphasizes a multi-step routine with a product for a variety of purposes, many Japanese beauty products integrate multiple functions and uses to eliminate the need for a consumer to fill their counter with beauty products. Korean Beauty may see three or four serums and elixirs that each serve a different purpose. Japanese beauty, on the other hand, often sees one all-encompassing product that can hydrate, smooth, and brighten all in one. For this reason, in addition to general price, many Japanese beauty products are actually closer to French beauty trends than Korean or other Asian beauty trends.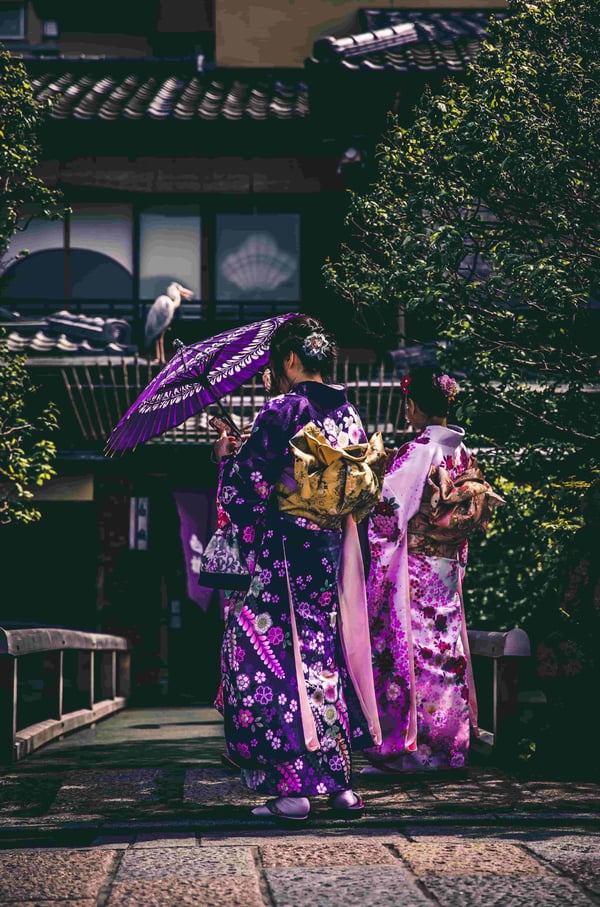 Ancient tradition meets innovation
Today, the Japanese beauty industry meets somewhere in the middle of age-old beauty traditions and the small innovations that make Japan world-renowned for its technology. Many of the most popular products on the market today integrate ancient beauty traditions and ingredients that have long been thought to create lasting beauty and promote a youthful complexion. Tatcha, for example, is inspired by ancient geisha beauty techniques and product recipes.
That being said, some of the most popular Japanese beauty companies are also pioneering innovations in technology that allow for advances in the industry. Shiseido, for example, has acquired and patented AI technology that will help consumers learn more about their skin through a live analysis on their smartphone camera. In other areas of technology, Japan has helped pioneer research in stem cell technology that gets implemented into skin care products, and even started the oil cleansing fad as a means of removing makeup back in the 1960's.
What the Japanese skin care routine commonly looks like
Minimalism is at the heart of Japan's beauty trends, from skin care to makeup. Much of the skin care industry is about prevention and health rather than fixing issues once they become prevalent. The Japanese skin care routine revolves around a couple of key products such as cleansing, treating, hydrating and moisturizing, and protecting. Double cleansing—first with an oil cleanser, then with a foaming cleanser—is at the heart of a good skin care routine.
Makeup trends in Japan are fairly minimal, save for a couple of trendy styles that come and go among Japanese youth. Generally, Japanese trends revolve around brightening and widening the eyes with different styles of eye liner. Everyday makeup focuses on eye makeup—eye liner, mascara, light eyeshadow, and eyebrows. Lips are commonly colored with natural tones, and some blush may be used to add color to the face and create a youthful appearance.
Ingredients common to Japanese beauty
Persimmon
Used for centuries in Japanese beauty, Persimmon works as a natural deodorizer that fights and eliminates the signs of body odor. This makes it a popular natural ingredient in Japanese beauty products. At Covalo, we recommend using Asian Persimmon, Kaki from The Garden of Naturalsolution because it's gentle, yet effective, making it a good addition to many natural beauty products inspired by Japanese beauty trends.
Silk Protein
Also popular in many Japanese skin care products, silk protein acts to give a boost to the overall health of your skin while targeting dark spots. Silk protein acts to get rid of dark spots by helping stop the production of thyrosinase, an enzyme that contributes to the appearance of dark spots on the skin. Silk protein can be found through Covalo by searching its scientific name Sericin. We recommend Sericin from Centerchem, as it can work to smooth and moisturize in addition to targeting dark spots.
Green Tea
Unsurprisingly, considering the fact that green tea is a staple in the Japanese diet, the detoxifying tea is also a popular ingredient in Japanese skin care and beauty products. In the same way that green tea works to detoxify the body when consumed as a beverage, it works to detoxify and pull out dirt and pollution from the skin when used in skin care. We recommend CustoGaia Green Tea from Custom Ingredients as a natural, botanical ingredient to be used in beauty products.
Cherry Blossom
Also unsurprising, Cherry Blossom has long been used in Japansese skin care and beauty products not only for its fragrance, but for its healing properties when used in skin care. Cherry Blossom is used in skin care for its ability to naturally reduce age spots and to slow down the appearance of aging. It can also be used to reduce skin inflammation caused by blemishes. Plus, it makes a great fragrance. We recommend Dermaspring IQ from Bio Component Research, as it contains natural cherry blossom extract to be used in skin care products as a brightener.
Marketing Japanese beauty: Political correctness
Many beauty blogs and companies seemingly love to pit East-Asian beauty trends against one another, though that could not be further from the reality of the situation. Korean beauty, much like Chinese beauty, is far different from Japanese beauty trends in the way the products are marketed. Incorrectly labeling one as "better than" or the new version of another mislabels each respective industry entirely. Korean beauty holds values that are different than Japanese beauty trends, and the two should not be compared in marketing tactics.
Additionally, the rise of East-Asian beauty trends in Western countries often adds to the exoticism of these cultures as a whole. In most parts of the world, beauty trends aim to produce the same result: healthy, hydrated skin free from blemishes and wrinkles. In many cases, ingredients and beauty trends popular in East-Asian countries is fetishized in ways that Western beauty trends are not.
In conclusion, the Japanese beauty industry is often portrayed in the media as "rising" in trends because of its quiet nature and the fact that Korean beauty trends have taken storm among a more affordable market. However, both have coexisted for decades as separate wholes that focus on different things. In Japanese beauty, the Japanese focus on minimalism and simple luxury has carried into its beauty products, which focus on delivering just a couple of high quality products over a variety of different products that offer different solutions. Design also plays a major role in Japanese beauty, which focuses on sleek, sophisticated packaging that compliments the design of the room it sits in.
Finally, the heart of Japanese beauty lies in the intersection of technology and tradition. Ancient ingredients like oil cleansing (which was traditionally popular among the geisha community), as well as green tea and cherry blossom are integrated with modern innovations in technology, such as stem cell research, that create top of the line beauty products.
Please share this with your colleagues by clicking one of the social media like or share buttons above, and remember to leave a comment. We love hearing from our readers!
Covalo is the most comprehensive personal care ingredient platform, making your search for the right ingredient super simple and speedy. You're only a few clicks away from finding just what you need.
Disclaimer: The information provided (on our blog) is accurate to the best of our knowledge, however, there may be errors. As a neutral organization, we at Covalo do not advocate or promote certain products or ingredients on our platform as better than others. The Site may contain (or you may be sent through the Site) links to other websites or content belonging to or originating from third parties or links to websites and features in banners or other advertising. Such external links are not investigated, monitored, or checked for accuracy, adequacy, validity, reliability, availability or completeness by us. For more information on our blog, contact social@covalo.com