The 12th annual in-cosmetics Asia fair, this year hosted in the bustling city of Bangkok, showcased the biggest trends in the Asia Pacific region and globally. Much like the streets of Bangkok outside, the venue located in the heart of the city was packed to the brim with people. Over 12,000 guests comprising of formulators, R&D specialists and other innovators - from the largest of companies to the most niche - were in attendance. 95% of the world's leading suppliers in personal care ingredients choose to exhibit at InCos Asia, so it was clearly THE event to be at if you're looking to discover the top trends in the industry. After an exciting few days talking with buyers, suppliers, and distributors, we're here to share with you which ingredients and industry solutions you should be paying closer attention to.

Transforming formulations
Transforming Formulations was one of the spotlights focused on during InCos Asia. The Asianisation of skincare seminar at the Formulation Lab revealed powerful insights on the unique tastes of consumers in every Asian Pacific country, driven primarily by climate, lifestyle, and skin type. Achieving flawless, no-filter "Instagrammable" skin through a regimented sun care routine and the most advanced, scientifically tested cosmetic products is a top priority for all Asian Pacific consumers, so high functionality is a major selling point. At the Innovation Zone, attendees could witness and sample firsthand some of the newest technological ingredients - all launched within the past 8 months - at their interactive formulation displays.
Clean beauty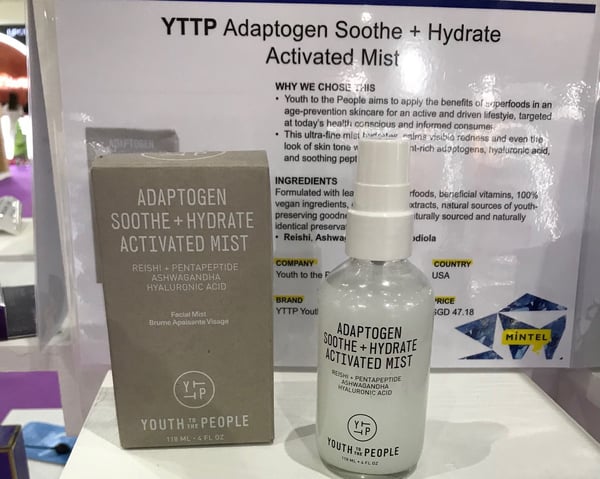 Continued interest in vegan and environmentally conscious products has led to clean beauty products being selected as one of the other spotlights for InCos Asia. Using the logic that what's good for us on the inside is also good for us on the outside, organic and clean foods are now being used more frequently in formulations to produce chemical-free cosmetics that are also sustainable. Cargill Beauty's Food2Beauty concept has inspired their newest innovation, FiberDesign Sensation, which upcycles food-grade lemon peel fibers to create a 100% natural, biodegradable texturizer and emulsion stabilizer for cosmetics. And Youth To The People's Adaptogen Soothe + Hydrate Mist incorporates the health benefits of superfoods Ashwagandha, Rhodiola and Reishi in their ultra-moisturizing facial mist.
Halal-certified cosmetics
We've heard about K-Beauty and J-Beauty previously, but what about H-Beauty? H-Beauty or halal certified cosmetics was another emerging trend that grabbed our attention at InCos this year. Premiering in 2019, the Halal Cosmetics Zone was a special tribute by event organizers to the Muslim countries in the Asia-Pacific region, such as Malaysia and Indonesia. Islam is the fastest-growing religion in the world, and the increasing social media presence of "Hijaber" influencers and their followers contribute to the growth of consumer demand in this industry. According to Allied Market Research, "Halal beauty is forecast to grow by 15% year on year to reach over $54bn by 2022". Compliance and regulation, however, is a major concern for buyers and suppliers. In Indonesia, for example, all products that enter and are circulated in the country must be Halal-certified. In order to meet the stringent requirements for certification, Halal beauty products require the absence of alcohol, animal fats and harsh chemicals in their formulations. The individuals at DSM are starting to pay attention when they said: "Halal is a way of life, it is a holistic concept embracing the values of safety, purity and integrity in the way products are made and sold." Halal products don't necessarily have to be exclusively for Muslim consumers. Brands could create Halal-certified products that are appealing to both Muslim and non-Muslim beauty fans concerned about these issues.
Indian beauty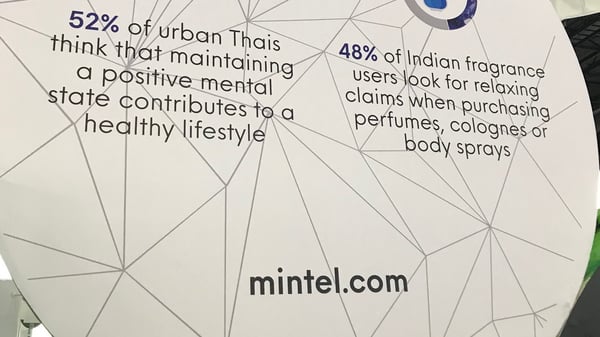 Marketing insight industry leaders such as Mintel, Euromoniter and Kline also gave visitors a glimpse into the future of personal care at the Marketing Trends & Regulations sessions. Fascinating discussions were held over three days on which factors will have an impact on consumer demand, how to adapt your marketing strategy to quickly respond to trends and how to comply with the complex regulations in different countries. We learned about India as the next emerging beauty giant. The second most populous country in the world is becoming more and more beauty conscious, with Ayurveda remedies, sun care and pollution protection and Bollywood glamour being common themes.
Award winners
Now, saving the best for last, we present to you a list of the winners in-cosmetics Asia awards for 2019:
Active Ingredient
CLR Berlin with "AnnonaSense CLR"
Lucas Meyer Cosmetics with "SKINectura"
BASF (Thai) with "Ciste'M"
Function Ingredient
SpecChem with "SpecPure BTS Saponins"
SEPPIC (Asia) with their HYDRALIXIR line (HYDRALIXIR LD and HYDRALIXIR CC)
Hallstar Beauty with "Sensolene Light ET"
Transforming Formulation
Croda Personal Care with "Hydrating Green Caviar Jelly"
Clean Beauty
Cargill Beauty with "Fiber Design Sensation"
Suncare
Gattefossé with "Emulium Illustro"
Liked this article? Share it with your colleagues and friends by clicking one of the social media like or share buttons above, and make sure to leave a comment. We love hearing from you!
Disclaimer: The information provided (on our blog) is accurate to the best of our knowledge, however, there may be errors. As a neutral organization, we at Covalo do not advocate or promote certain products or ingredients on our platform as better than others. The Site may contain (or you may be sent through the Site) links to other websites or content belonging to or originating from third parties or links to websites and features in banners or other advertising. Such external links are not investigated, monitored, or checked for accuracy, adequacy, validity, reliability, availability or completeness by us. For more information on our blog, contact social@covalo.com