The COVID-19 pandemic changed a lot of things for nearly everyone around the world. For various industries, interrupted or halted supply chains meant that companies were facing issues they never thought they would in today's world. Changes in consumer lifestyles meant that most industries had to rethink the ways they would interact with consumers, and most industries had at least some sort of an upset due to the pandemic.
From fitness to cosmetics, industries were now navigating a "new normal" in how their customers and clients were interacting with their products. For the beauty industry, this shift in consumer habits meant that online shopping increased, but did not mean that there was much of a decrease in purchases overall. Many brands saw skin care and other personal care products become more popular than their cosmetics and makeup products, but lost sales on one product often meant an increase in sales on another.
Rapid digitization
During this time we saw the mass digitization of nearly everything. Where consumers once left their homes to interact with the world, attend fitness classes, shop, or experience live entertainment they were now forced to do so from home. Peloton, a home fitness bike with digital classes taught by world-class instructors saw its sales nearly double during the pandemic as people were forced to exercise from home. Now, even as fitness studios are able to open back up, many are opting to continue exercising from home out of ease.
This mass digitization is not exclusive to fitness, though. Streaming platforms like Netflix, Hulu and Disney Plus saw an increase in viewership during the pandemic. Everything from how we consume media to how we bank and even how we shop for groceries saw years of digitization sped up into just a few months. Many shopping experiences were already prepared for this type of consumer shift to digital, and online shopping platforms saw a substantial increase in orders during the pandemic that they had never seen before—even with historic mail delays both domestically and internationally.
This rapid digitization can make a positive impact on the amount of beauty industry jobs and careers that are available. Jobs that never existed before are now becoming high-demand job opportunities for many recent college graduates looking to break into a difficult industry. While the job market was tough on 2020 graduates, 2021 graduates are finding that the job market is rife with more job listings than ever. Competing with the workforce that was laid off amid the pandemic, though, might mean that new graduates have to take on more beauty industry internships in order to land a job.
"Beauty companies should appeal to new, remote lifestyles where digital research across social media and search engines is playing an increasingly important role in the pre-purchase process."
Shifts in consumer trends
For the beauty industry, the pandemic meant a shift in the ways that consumers would interact with beauty products. With stay at home measures in effect around the world for over a year in many places, people found they did not need to wear makeup as often as they once did. In France, for example, 46% of consumers reported that they wore less makeup during the pandemic than they did before the pandemic.
Similarly, cosmetics companies in the United States found that lipstick sales skyrocketed as much as 80% once mask mandates were lifted around the country in the Spring of 2021. But while traditional makeup may have seen a dip during the peak of the pandemic, sales of beauty and personal care products were just as high as they were in the years prior, signaling that consumers look at beauty and personal care products as a form of self care or pampering that can evoke a sense of comfort, even during uncertain times.
With more people working from home, popular makeup products shifted to mostly use-based products. Things like foundation, mascara and eyeshadow have a function even in a work from home world, but other products like glitter or colored eyeliners may have lost some sales just because people really didn't have a place to wear them to. Consumers, suddenly faced with a health crisis, also turned to skin care and beauty products as a way to feel that they were adding to their health. Products that had a health function, like makeup with spf or skin care products that helped make skin look more radiant, increased in popularity as well.
Working from home has also shifted the skin care products that consumers enjoy, too. Skin care and personal care products are often marketed as a way to pamper yourself or unwind after a stressful day. These products have not only become more popular, but more consumers are focused on dermatology in a way they may have never been before.
Lifestyle changes
In a webinar from Brand Performance Agency Threepipe Reply entitled "Digital Transformation of the Beauty Sector," it was suggested that beauty companies implement a robust digital marketing strategy and e-commerce experience into their website in order to increase sales and appeal to new, remote lifestyles where digital research across social media and search engines is playing an increasingly important role in the pre-purchase process.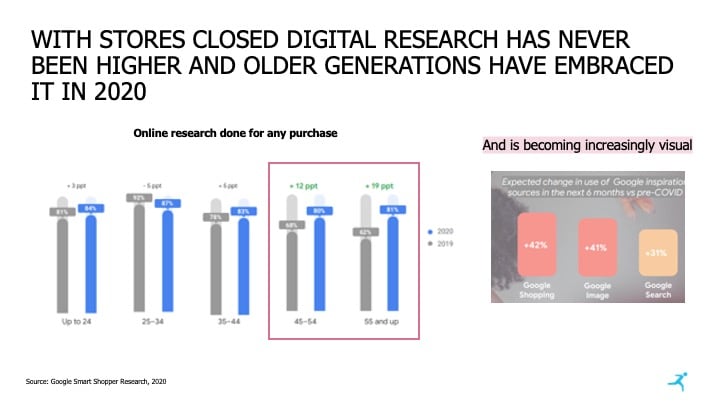 Slide courtesy of Threepipe Reply
The webinar panelists recommended adding things like personalized beauty product recommendations based on a consumer's lifestyle, Artificial Intelligence (AI) and Augmented Reality (AR) experiences, and an expansion of marketing onto various digital channels. In order to meet consumers where they are in the digital landscape, brands need to think of the places within the internet where their demographic is already hanging out.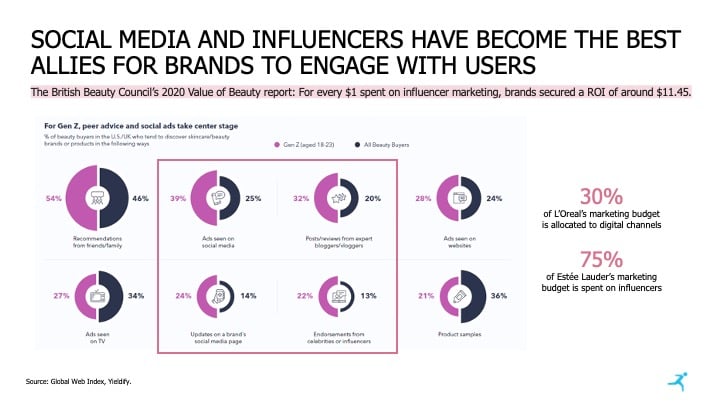 Slide courtesy of Threepipe Reply
Other specialists like cosmeticsbusiness.com have suggested that things like personalized beauty or subscription boxes are likely to become more popular even as the pandemic wanes. Changes in lifestyle due to the pandemic may end, but consumers enjoy the ease of access that subscription boxes or e-commerce gives them. While it's unlikely that brick and mortar stores will lose their popularity entirely, the freedom that e-commerce provides means that consumers can easily access their favorite products without having to go out of their way.
Sustainability
Scientists have pointed out that the pandemic and climate change are likely linked. Increased concern for climate change around the globe has shifted the ways in which consumers interact with the products they use every day. Products that utilize "natural" ingredients or contain ingredients that come from a sustainable source or supply chain are becoming more popular as consumers become more educated. We've covered various trends such as natural ingredients, upcycled beauty products and other sustainable initiatives in the past, and it's unlikely that sustainable beauty products lose any steam in popularity in the coming years.
Consumers want to see that the products they use contribute to positive action in the fight against climate change. Things like recycled packaging, upcycled ingredients, plastic-free products, no testing on animals and certifiably sustainable supply chain promises are just a few of the ways in which cosmetics companies can reassure their consumers that the products they use are aligned with their values. There are various certifications that companies can earn to appeal to these consumers, and the certifications help solidify consumer trust in the product.
Even during something as stressful as a pandemic, consumer trends throughout 2020 prove that beauty and personal care products are an affordable luxury that many are willing to continue to invest in even in times of economic crisis. However, beauty and personal care companies would do well to accommodate these shifting consumer demands and trends to stand out against competitors during a time when many are doing their shopping from home.
Do you have topics you want us to ask beauty industry experts?
We'd love to make this blog more relevant for you! Email us with topic suggestions: social@covalo.com
Disclaimer: The information provided (on our blog) is accurate to the best of our knowledge, however, there may be errors. As a neutral organization, we at Covalo do not advocate or promote certain products or ingredients on our platform as better than others. The Site may contain (or you may be sent through the Site) links to other websites or content belonging to or originating from third parties or links to websites and features in banners or other advertising. Such external links are not investigated, monitored, or checked for accuracy, adequacy, validity, reliability, availability or completeness by us. For more information on our blog, contact social@covalo.com