On this page
The pandemic changed a lot about how consumers interact with the world. Wellness has always been at the forefront of cosmetics and beauty, but a greater demand for wellness products amid the chaos of the global health crisis expanded that demand to new places. Consumers became more interested in products that could not only make them appear more beautiful, but would improve their overall health from the inside out as they could no longer access wellness in other ways, such as at the gym, spa, or in other public spheres.
Text continues below image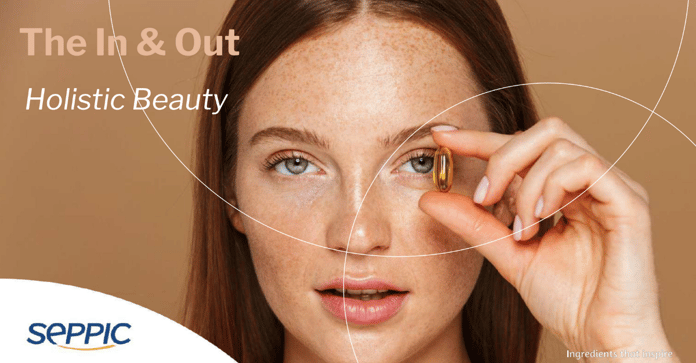 The In & Out Holistic Beauty Webinar with Seppic and Deanna Utroske
To dive deeper into the combined wellness and beauty industry, we spoke with leaders at Seppic, a wellness-first ingredients company that uses cutting-edge technology to develop ingredients in the beauty, nutraceutical, and pharmaceutical worlds. The discussion was moderated by Deanna Utroske, a well-respected thought leader in the supply and manufacturing side of the beauty industry.
Utroske is the former editor of CosmeticsDesign.com and has developed a global reputation for her clear and concise explanations of complex issues within the industry and its supply chains. Listen as Deanna speaks with Anna Momméja, the Europe Marketing Manager at Seppic, as she discusses the many elements behind what goes into creating a holistic beauty product. Watch the recording of the webinar on YouTube here.
All about holistic beauty
There are lots of approaches to beauty, and the wellness industry takes on the idea that beauty is a representation of good health from within. The holistic approach refers to thinking about beauty as a result of a healthy mind and body, together. A holistic approach to beauty may look like incorporating a healthy lifestyle into your beauty routine, or an approach to beauty through the food and ingredients that you ingest. At its core, holistic beauty refers to looking at beauty as a "whole picture" situation, where beauty comes from health, and health comes from within.
The holistic beauty approach might look like finding ingredients that you can ingest in order to achieve smoother, shinier hair, or by making dietary changes to improve the overall radiance of your skin. Holistic beauty products, like those that use ingredients from Seppic, may incorporate a mixture of ingestible and topical ingredients to address beauty from within the body as well as outside of it.
At Seppic, holistic beauty starts with ingredients. Seppic's goal is to meet at the intersection of beauty and health by taking an "inside & out" approach to cosmetics and beauty. The company developed ingredients like its trademarked CERAMOSIDES™ product, which delivers ceramides to the skin through the bloodstream, helping to nourish the sin from within the body, rather than through traditional ingredients that you would find in topical skincare and cosmetic products.
Holistic beauty and nutricosmetics focus on getting the most from different natural ingredients. The antioxidants in superfruits like acai, for example, can be used in both ingestible and topical products. A holistic nutricosmetic might combine the powerful ingredients in antioxidant-rich foods with other topical ingredients to provide health benefits that result in improved beauty over time.
The company creates what it calls "nutricosmetics", which approach beauty from that inside & out perspective where beauty is achieved through inner health and wellness. CERAMOSIDES™ HP is just one of many in its catalog of nutricosmetic ingredients, which range from active ingredients like CELTOSOME™ Eryngium Maritimum — which uses biotechnology to enable its skin firming properties from plant cells — to EMOGREEN™ C69, a natural emollient and biodegradable alternative to dimethicone.
A focus on sustainability in cosmetics and nutricosmetics
One property of holistic beauty and wellness is an approach to beauty with the Earth in mind. Holistic ingredients and products will often use natural ingredients, or have a strong sense of their impact on the environment. Seppic is no different, as many of its products are both COSMOS and NATRUE certified, which are among the most difficult and stringent organic and natural certifications in the cosmetics world.
Seppic sources its ingredients with sustainability in mind. The company is a member of the Union for Ethical BioTrade (UEBT), which is dedicated to sourcing ingredients respectfully by doing so with an understanding and respect for local cultures, harvesting practices, and populations. These practices increase a demand for sustainable supply-chain practices, while actively working to improve both living and working conditions in places where these natural ingredients are sourced.
Holistic beauty: a more natural approach
The traditional beauty industry may market solutions to common cosmetic skin problems such as aging and acne with products that can treat the problem entirely, while a holistic approach may advertise a more natural solution — one that may not make the problem go away completely, but one that can help consumers "love" their skin like never before. A 2020 article in Vogue talked about how holistic beauty is helping people embrace aging like never before, especially in an age when anti-aging products such as Botox and cosmeceuticals are more accessible than ever.
"There are two ways to address [consumer] needs... Either you put something on it, so this is the external way, or you treat it indirectly by taking food or specific beauty supplements — which of course are more effective and more targeted," says Anna Momméja. Nutricosmetics, which were created in the 1980s, emerged as a way to address growing consumer demand for both external beauty products and wellness products that focused on health.
Text continues below image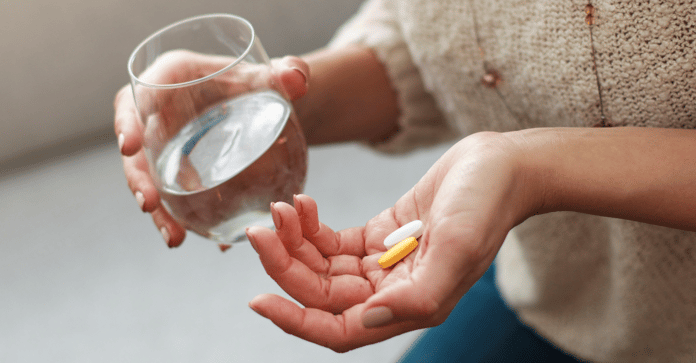 Marketing nutricosmetics
Today, much of the skincare industry follows at least some of the nutricosmetic approach — that is to say that it puts health and wellness at the forefront of its marketing and ingredients approach, rather than focusing solely on external beauty. Nutricosmetics, however, are a more gradual approach to beauty, and require a consumer to have consistency in their habits in order to see results.
Where a beauty product like makeup can show instant results, a nutricosmetic such as a supplement or skincare product may require consistent use over time before results appear. "This is also the reason why they are so complementary... So we can see some permeability between both markets," says Momméja of the intersection between nutricosmetics and traditional cosmetics.
From a marketing perspective, the concept of nutricosmetics also makes the idea of pharmaceuticals more appealing to consumers, especially as vitamins and other beauty-focused wellness brands rethink how they can market to their target demographics in the first place. Holistic beauty and wellness is often marketed as a luxury product, so the textures can be less fun and more earthy, while still maintaining an attractive and marketable appearance on the consumer market.
Ingredient sourcing and regulation compliance with Seppic
Sourcing ingredients for nutricosmetics requires an understanding of what consumers are looking for. Since many of Seppic's ingredients are COSMOS and NATRUE certified, it demonstrates the consumer demand for products that utilize natural and organically sourced ingredients. Many ingestible ingredients are also subject to tighter regulations in many nations. Many of Seppic's ingredients are sourced from biodegradable and bio-sourced materials that are just as sustainable as they are effective.
Some of Seppic's most popular ingredients offer holistic alternatives to popular or necessary ingredients in both pharmaceutical and cosmetic products. SEPINEO™ P 600, for example, is a 3-in-1 thickening polymer that acts as a stabilizer and emulsifier to create a richer, thicker, holistic product that works with complex topical pharmaceuticals. The company uses specialized plant extracts to create its ingredients, which uses Seppic Lons production site in France to retrieve extracts from plants found across the globe.
Cosmetics companies that wish to expand their operations into ingestible nutricosmetics such as supplements and other products may struggle with the regulations side of the operations, especially if the ingredients suppliers they work with don't specialize in nutricosmetic ingredients. Seppic works with beauty and cosmetics companies to create products that are not only holistic and sustainable, but compliant with regulations around the globe. At Covalo, we work with companies like Seppic to supply top-of-the-line ingredients to cosmetics companies wishing to make holistic nutricosmetics that are both effective and sustainable.
Watch The In & Out Holistic Beauty Webinar below
Liked this article? Share it with your colleagues and friends by clicking one of the social media like or share buttons above, and make sure to leave a comment. We love hearing from you!
Disclaimer: The information provided (on our blog) is accurate to the best of our knowledge, however, there may be errors. As a neutral organization, we at Covalo do not advocate or promote certain products or ingredients on our platform as better than others. The Site may contain (or you may be sent through the Site) links to other websites or content belonging to or originating from third parties or links to websites and features in banners or other advertising. Such external links are not investigated, monitored, or checked for accuracy, adequacy, validity, reliability, availability or completeness by us. For more information on our blog, contact social@covalo.com