Thank you to all those who attended our very first webinar on "Finding sustainable ingredients quickly and easily" - it was a great success! While we would have loved to have answered all the questions we received during the live Q&A, unfortunately time ran out. So for our next #AsktheExpert interview we decided to do things a bit differently; instead of an industry expert answering our questions, it's Covalo that will be answering yours. Below you'll find all the questions we received during our live webinar.
Did you miss the live version or want to rewatch? An on-demand version is now available on our YouTube channel. If you enjoyed the webinar, please share it with your colleagues and help spread the word about Covalo!
Contents
Sustainability Claims & Filters
Sustainability Claims & Filters
Q: What ingredients are considered sustainable?
Covalo itself does not make a decision on if an ingredient is sustainable. We work together with certification bodies like COSMOS, NATRUE, China-approved, RSPO and ISO 16128 to enable better transparency on what products are certified. In addition, we have the filter option "sustainability claim". With this filter, we list those products which are marketed with sustainability claims (e.g. Natural, Vegan, Gentle etc.).
Q: Can you define your sustainability claim groups? What is the difference between green and clean for example?
The sustainability claim group is our way of structuring all the claims that we feel are broadly linked to environmentally responsible products. At Covalo, we see 'Green' as related to the principles of 'Green Chemistry', which is focused on practices that reduce chemical impact on human health and the environment. We see 'clean' as related to chemicals that do not create hazardous waste in their synthesis or their use.
Q: How do you define an ingredient as sustainable or natural, etc?
Broadly speaking, sustainable refers to products that are extracted, processed and used such that they meet the demands of the market without harming the health or environment of the future. Natural products are molecules that are extracted from nature, undergoing purification but no further chemical reactions. At Covalo, we only label products as sustainable or natural when a supplier of chemicals uses those words to market their products.
Q: Do you think there is a greater need for standardized definitions of your 15 sustainability claims?
We see it as the responsibility of all producers of chemicals, who know their products better, to add the appropriate and fitting sustainability claims. Standardizing our definitions of these claims is a great way to ensure that this will be the case.
Q: Do you plan to add "clean beauty" related attributes like "approved as EWG green grade"?
Thank you for the inspiration. We will discuss this internationally with our chemical experts and external sustainability experts. Stay tuned for updates.
Q: What does bio mean versus eco-friendly?
Bio means that it is derived from living or once living organisms. Eco-friendly is broad term meaning not harmful to the environment.
Q: Can you add "Fair Trade" as a sustainability claim?
Thank you for the inspiration. We will discuss this internationally with our chemical experts and external sustainability experts. Stay tuned for updates.
Halal & Other Claims/Filters
Q: Do you have a filter for "Halal certified" ingredients?
Not at this point in time, but it will be online soon.
Q. Can we have the functions and filters in alphabetic order?
Yes, the filters can be sorted by "count" or by "name" in alphabetic order.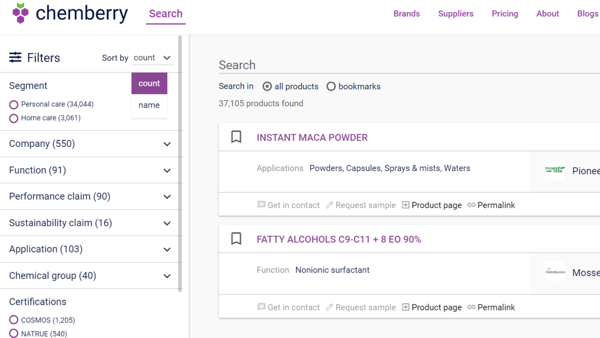 Q: Do you have lipo soluble/water-soluble in the filters?
Great suggestion. We're in the process of adding this, as well as other chemical and physical properties of products to our index. Stay tuned for more.
Q: Do you have a selection to narrow down ingredients suitable for babies?
We love this suggestion! Currently, we'd recommend using our sustainability claims 'gentle' and 'safe', to identify ingredients suitable for babies. We're also looking into identifying 'hypoallergenic' and 'fragrance-free' products in our filters, which is also a way to tackle this.
Q: Do you have a selection for fragrance-free ingredients that can offer smells?
Not currently, but we have plans to cluster top, middle and base-note fragrances as well as fragrance free ingredients in the near future. Stay tuned for updates!
Registration & Pricing
Q: Is Covalo a free subscription service?
Yes and no. We offer different packages depending on the user type.
Consumer care brands, researchers, formulators, students, and consultants can create a free profile for unlimited searches, product comparisons, personal search history, bookmarks, and a trends dashboard.
For suppliers, we offer three different packages:
Free Trial: Sign up here and try our services for one month.
Flexible: Our pay-per-lead model is for sales-hungry companies where you only pay for the leads you actually receive. You can find more information and sign-up here.
Unlimited: With our "Unlimited" package, we offer unlimited numbers of leads per year, as well as 5 sponsored products and premium support. Interested? Then directly book a meeting with Anthony, who will customize an unlimited package to your specific company needs.
Q: How much does it cost to have access as a supplier to the Covalo platform?
Depending on the needs of the supplier, we offer two different packages at this point of time. You can find more information here.
Q: Do you get your commission from the supplier's brands choose from your database?
Suppliers with indexed products pay for their leads list. More information about what data is considered as a lead can be found in our Privacy Statement.
Q: How can I subscribe to Covalo if my company is not on your list?
If you want to be listed on Covalo, just write an email to info@covalo.com and we will get back to you as soon as possible.
Suppliers on Covalo
Q: Where do you get the ingredient and formulation data from and how is it being maintained? Which source do you use to populate your database for performance claims?
We get our information directly from the suppliers' websites and we categorize the data according to our dictionary. We then allow suppliers to enter Covalo to verify, add or remove data. At this moment we do not have formulation data but it is on our roadmap to add.
Q: How do you select the suppliers and their products?
There are several ways on how we select suppliers. We often meet them face to face at trade shows, but suppliers can also request to be listed on Covalo. We also do our own research into what new suppliers are on the market. We ask suppliers to list all their products on Covalo so that we can have the most comprehensive index in personal care.
Q: How do you manage to see the suppliers on your database are conforming to legislation with regard to the source of the ingredient?
Quality assurance is very important to us and is part of our daily job. Since our index is growing daily, it is challenging to check every ingredient one by one, but we do our due diligence to make sure that there is no misleading information on Covalo. We like to work with trusted companies and are in dialogue with suppliers to make sure all information is up to date and legitimate.
Q: Do you have any sort of supplier classification regarding service level, such as quality, regulatory documentation, lead time, MOQ?
At this moment this information is not found directly on Covalo. We do link each product directly to the suppliers website so information can be found there or you can directly contact suppliers if this information is not found. We do have in our plans to include topics like MOQ.
Q: How do I know if the suppliers are reliable?
We have a vetting process that we go through to check suppliers websites, ingredients, background, etc. We also review the information on Covalo constantly. We hold our data and content to the highest standard.
Leads & Analytics
Q: How many leads per week/ month can we expect as a supplier?
This depends on the product details a supplier has available on Covalo. We've experienced that brands are especially interested in performance claims, applications. certification data and MSDS file. If you have any further questions, please write an email to info@covalo.com and we will get back to you as soon as possible.
Q: What is the difference between a qualified and an unqualified lead?
A qualified lead is a lead that contains personal information on a potential sample and/or order requests, such as application area, sample size, total application size, shipping address, etc. An unqualified lead is a lead that contains information about the behavior of a potential customer, such as the number of product clicks or product comparison. More information can be found in our FAQs.
Q: For people who will keep looking for ingredients on Google, how do you make sure that they will be redirected to Covalo?
Being found on Google is very important. This is why we created separate product pages for every ingredient to backlink this on Google.
Q: What kind of analytics are made available for suppliers?
For suppliers, we offer company-specific analytics, which can be narrowed down to an individual product and a time frame. This allows suppliers to see where and who is interested in their product. Also, we give indicators on the performance of the products of the suppliers by comparing their traffic to other companies. In addition, we offer dynamic leads list. Please contact us directly via info@covalo.com for more information and a live demo.
Q: Do you also offer market trend data and statistics?
Yes, we offer an overview of what are the most trending search terms and the most searched products on Covalo. We are currently working on expanding our trends and analytics section and will release further features in 2020.
Other Questions
Q: Are you planning to sell products/ingredients online?
Currently, the market for specialty chemicals is not ready to have e-commerce options. But we are convinced that a lot in this direction will happen in the next few years.
Q: Why use Covalo rather than UL Prospector or SpecialChem both from a buyer and a supplier perspective?
We don't think that using Covalo means that you are restricted from using other platforms. When we built Covalo, we benchmarked ourselves against existing solutions and created a database that can deliver. Some key points to add are that we have more ingredients in personal care, we have a focus on user friendliness and being easy to use, we allow you to compare ingredients and check on trends, and we can also offer you support in finding ingredients and making sure you get responses from suppliers.
Q: How can Covalo be beneficial for start-up companies?
We are a start-up as well, so we understand the challenges that a young company may face as they start or begin to grow their business. We're always looking to support start-ups in any way possible and are open to any feedback on how we can directly impact their business. Through working with organizations like Formula Botanica, we feel like we've made Covalo an efficient way for young companies to source ingredients.
Q: Do we have some statistics about e-commerce and the role of social media also in the B2B space and for the cosmetic industry?
At this point in time, we don't have any specific information. But since our traffic and user numbers are growing rapidly and with the help of data science, we will be able to create statistics in the near future.
Q: What are the new trend ingredients for hair care and style?
Diversity and customized products depending on the hair type is a big topic. We also put together a blog post about Hair Diversity.
Q: How difficult is it to order your ingredients for Eastern European countries, such as Romania?
We try to source suppliers from all regions to have a global presence. We will implement at some point this year distributors to Covalo so buyers and brands can source ingredients more locally.
Q: Are you going to be exhibiting at in-cosmetics Global in Barcelona this year?
Yes, we will be attending in-cosmetics Global in Barcelona this year! We are very excited about it as it will be our first time exhibiting at a major trade show. You can visit us at Booth Z13. We'll have some surprises and gifts for some lucky visitors that pass by.